Water Rocket Competition of Astronomical Society, University of Colombo
It was May 28th, one of the most awaited days not only for me but also for other members of the Astronomical Society. Due to the Covid 19 pandemic, we couldn't engage in any physical events and hence, I personally hadn't seen any of the board members of the Astronomical Society except for the president. I was a bit nervous as this was my first physical event, but it faded away after I got to know how friendly they are. The organizing committee members introduced themselves and other society board members and they presented the agenda of this event. Saneru and Dahami Akki explained the physics behind the water rockets and their launching mechanism. Also, they explained to us the procedure of creating a water rocket in a very creative way with our own ideas and modifications.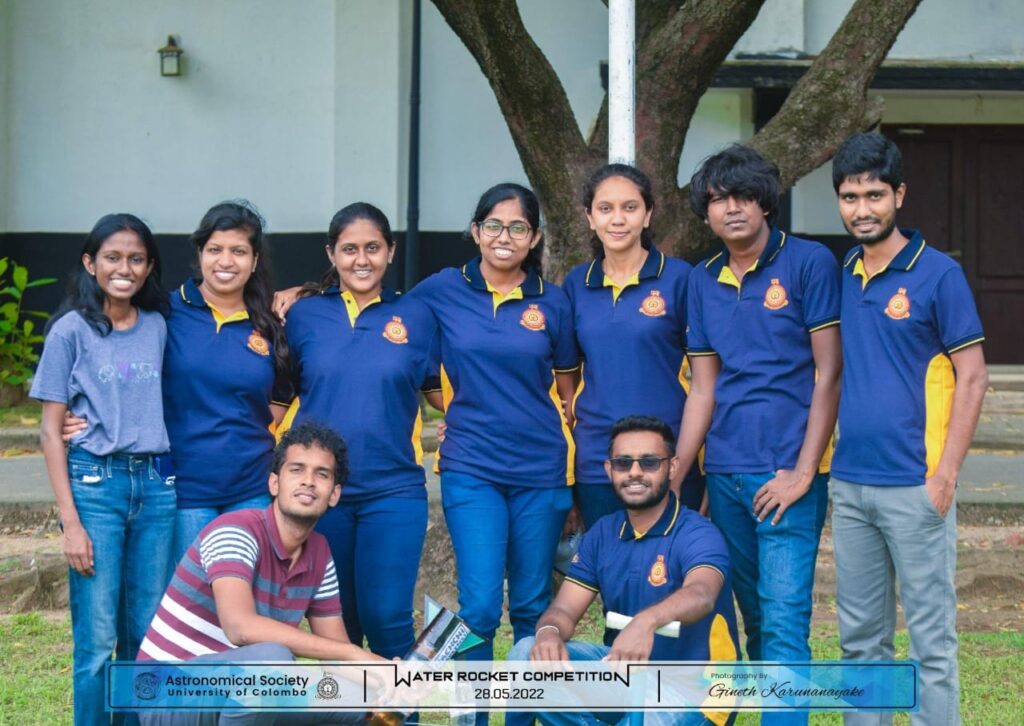 Altogether about 50 students participated including the freshers (as now we are 2nd years) to grab that unforgettable experience even with the prevailing situation of the country. We were assigned into 8 groups. Mine was "ENCELADUS" (one of the moons of Saturn). There were some funny group names like "TATYANA "and "KYANA 69". It was a great opportunity to work together with my fellow batch mates, our seniors, and juniors.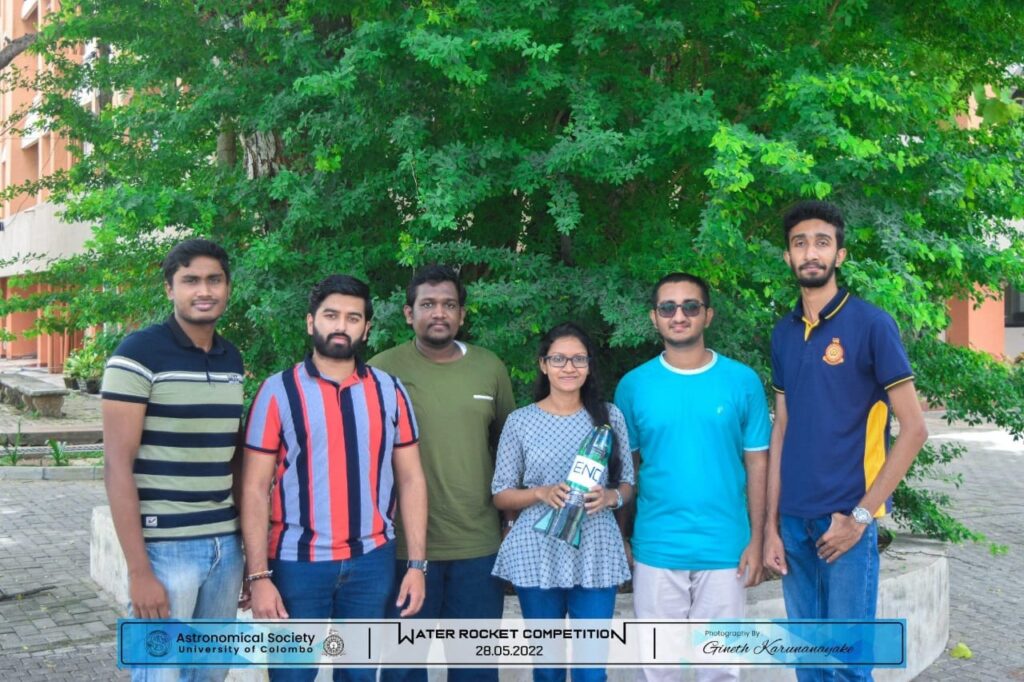 First, we constructed the body of the rocket using two plastic bottles as per the instructions given. Finding the best combination of bottles from many different brands was not an easy task for us. We took a considerable amount of time to decide on the shape and dimensions of our rocket from the limited 1-hour duration. Then, by placing a rubber ball, we balanced our rocket. Luckily Himantha had prior experience in building such rockets. With all the different creative ideas, finally we designed and fixed the wings. At last, we named it "Enceladus". It was a great opportunity to refresh my memory about some theories in physics and gain new knowledge as well. Indeed, the best thing was to work as a team and enjoy the moment.
Cheers… With so many creative ideas, we had done it. Hats off to Gineth, who didn't forget to capture every moment of this competition from beginning to end. Oh, I was a bit embarrassed as my teammates were comparing my height to that of rockets! Am I that short?
The most awaited moment arrived. It was time to launch the water rockets at the university grounds. First, we had a trial round. We pumped air after filling some water into the rockets and then adjusted the best angle to set our rocket to the target. My heart was beating so fast. Himantha and Theminda launched our rocket. Wow, it went so far! I was the one who had to run and collect our rocket. Once I reached it, my hands were trembling, frightened to see if any kind of damage had happened to it during impact with the ground since there was no PLAN B rather than competing with the same rocket. Thank God it was safe, only some mud had stuck to the bottle.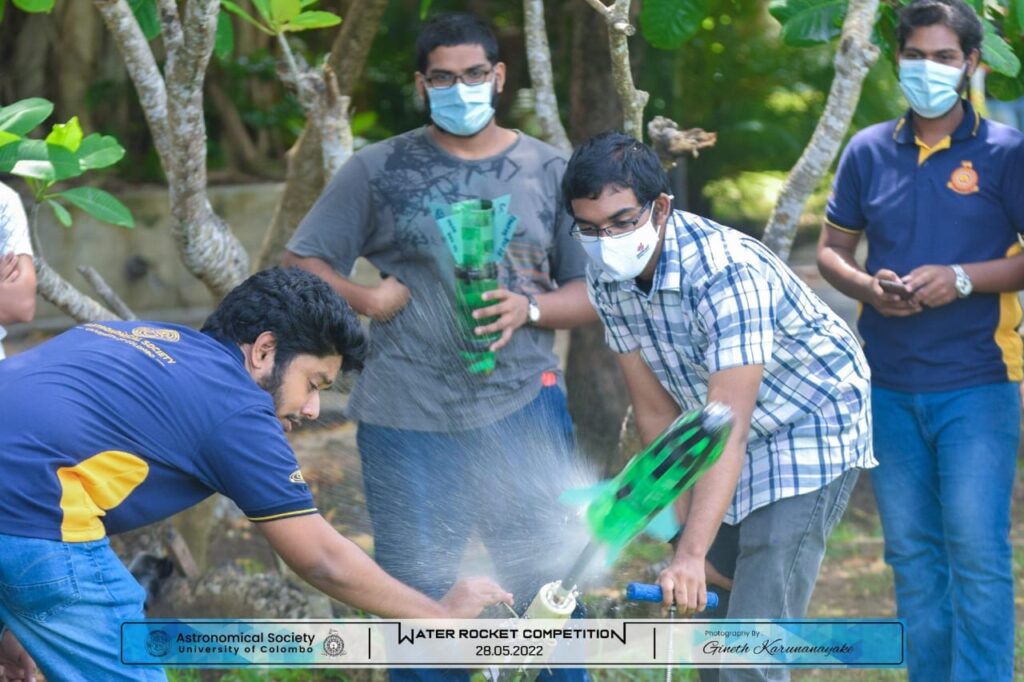 The first round started, and we all were very excited. We were supposed to land our rockets into a rectangular region marked on the ground. How splendid it was to launch a water rocket, splashing water around. Hurray! Because of Himantha's clever decisions about the pressure limit and angle adjustments, we were able to get selected for the second round. Only 4 teams were selected out of 8. It was about 12 noon. One of our fellow batch mates suggested taking a 2nd-year group photo, and it was not an easy task to get everyone lined up. Unfortunately, once it was done, the rain came and disturbed the proceedings and we had to wait about 10 minutes for it to stop.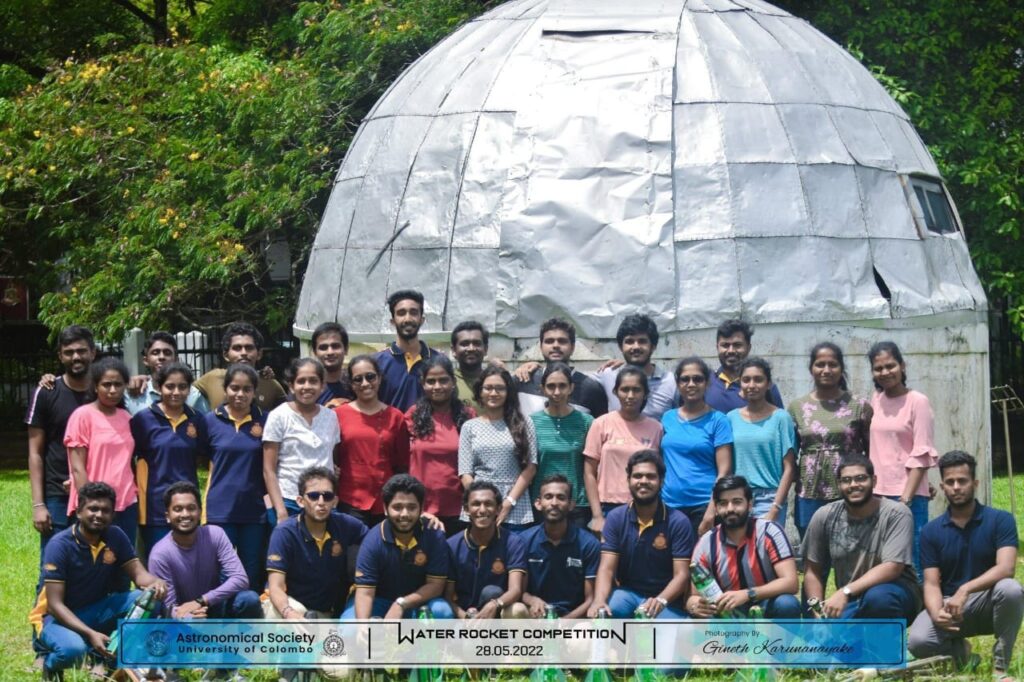 It was time to start the 2nd round. This round was more challenging than the previous one since we were given a target to hit with our rocket and marks were allocated for how close our rockets landed to the target. Ours went so close to the target, however we got 3rd place.
Sathira's team won 1st place in the competition and 2nd place was grabbed by Upuli's team. The winning teams received some yummy chocolates as prizes. What a wonderful day it was. In a nutshell, it was a great job done! Our first physical event after a long time successfully ended, creating unforgettable experiences, insightful talks and funny moments. Kudos to all of them who did the planning, executed it in action and contributed to make this event a success.
Hope to see more rockets next year… Counting the days till Water Rocket Challenge 2023.
-Chamodya Thathsarani-